Toyota Boshoku
Toyota Boshoku's main plant in Turkey deals with interior automobile parts. Having started its operation in 2002, the plant is a "Just-in-time manufacturing plant". The plant, with its wide product range, long experience and its technical capability, is one of the leading production facilities of the sector and Sakarya province.
In their Sakarya plant they manufacture seats, door trim, instrument panel components, air filters and seat covers. The complete factory consists of three production plants;
Sakarya Assembly Plant
Sakarya Frame Assembly Plant
Düzce Trim Cover plant
With an annual production capacity of over 280,000 vehicle sets, the exports reach as far as the whole of the European continent and Africa.
Due to the heavy duty machinery in the production plant, noise and health and safety in general are always high the agenda. To tackle noise issues and to get a better understanding of the indoor noise levels in the production plant, Toyota reached out to our partner Metapax to investigate a reliable and affordable indoor monitoring solution.
‍
Our partner
Metapax Akustik specializes in sustainable acoustic solutions by applying acoustic metamaterial technology. They tackle environmental, industrial and urban noise problems. Metapax holds strong relationships within the acoustic market in Turkey and has partnered up with Sonitus Systems in 2021 as their representative in the region.
"Sonitus Systems has been a great addition to our current product range and consultancy offerings. Reliable plug & play equipment with easy operation delivering quality data to my clients along all sectors."
Onursal Önen, CEO Metapax.
‍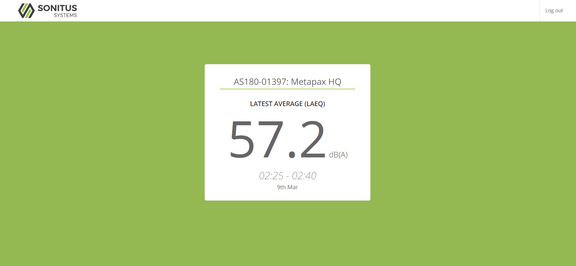 ‍
Indoor Noise Monitoring
The Toyota Boshoku factory is a dynamic and modern production plant which uses mainly metal parts. Machinery such as heavy duty presses are in constant operation, along with many workstations where the metal parts are further processed manually. These activities along with others, have a high contribution to workplace noise levels which affects the general wellbeing of staff operating on the work floor.
Factory management decided to start a project to continuously monitor noise levels close to heavy duty press stations and installed the AS180 Sonisens to log noise levels and to learn from the detailed information collected. The live readings are shown to workers to increase awareness to high levels of noise via the simple coloured display with traffic light system. 'Green' meaning good, 'Red' meaning bad.
‍

What's next?
The heavy duty press area is planned to be covered with an acoustic insulation structure in early August 2022 and long term noise measurements will be essential to show the effectiveness of the new insulation structure.
Toyota will continue to invest in staff well-being in their plant with workplace noise being one of the main areas of focus.
‍
‍Get in contact to see if we can help with your project.